We are always searching for healthy alternatives to every type of food we eat. We often have these questions running on our minds, what could be healthier than this? What has more nutrients than what I am currently eating? How can I get more nutrients without switching the portion size? We have an answer to all your questions. We have got grain to maximize your Nutrient intake without increasing your portion size, and wait, it is delicious when cooked with different ingredients. Jumping straight to the grain, we are talking about the mighty Foxtail millet, rich in nutrients and Foxtail Millet Benefits.
What is Foxtail Millet
Thanks to its dense nutritional qualities, Foxtail millet has been a staple food crop for many centuries, especially in dry or parched regions. Foxtail millet is high in protein, calcium, iron, dietary fiber, gluten-free, and vitamin-rich, particularly in B12, and it is excellent for the heart and nervous system. Foxtail Millet is also known as
Kangni in Hindi

Korralu in Telugu

Thinai in Tamil

Thina in Malayalam

Priyangu in Sanskrit

Kang in Marathi and Gujarati

Kaon Dana inn Bengali
Talking about the Foxtail Millet Benefits (priyangu kangni)
1. Great for Bones and Muscles 
Because of being rich in iron and calcium, it is great for muscles and bones. Iron is great for the muscles, and Foxtail millet will ensure strong, healthy muscles. The calcium content is very beneficial for bone health, and consuming this millet will also help fight any inflammation in the bones. One of the Foxtail Millet Benefits is this. 
2. It Eases Digestion
This millet is an excellent source of Fibre, ensuring good digestion, and is also great for people suffering from constipation.
3. Great Food for Diabetic Patients 
The Low GI index of Foxtail millet means it raises the blood sugar level slowly, unlike Foods with a High GI index which are harmful to health. This is an excellent source of nutrients for people who have Diabetes, as it is very healthy and helps reduce blood sugar levels.
4. It is excellent for weight loss
Foxtail millet gets digested at a slower rate which helps you away from taking extra calories. The fibers present in foxtail millet give a well-balanced diet, and moderate consumption of this Foxtail is helpful in effective weight loss.
5. Good for Heart Health
Foxtail millet is gluten-free, rich in protein, and less in carbs, which helps form the neurotransmitter acetylcholine, which helps to transfer the message between muscle and nerves. It also safeguards the functions of the heart system.
6. Foxtail millet is excellent for the skin
It contains some amino acids which facilitate the formation of collagen. It helps keep the skin firm, younger, and free from wrinkles.
Consume Foxtail millet and Say hello to Firm, beautiful skin!
7. It Improves Immunity
Foxtail millet is a wealthy source of vitamins, minerals, and other nutrients, which boost your stamina, keep you stronger, and build immunity for fighting many viruses and infections.
8. Foxtail millet benefits in Pregnancy
This millet is rich in nutrients that are essential and great for pregnant women, so it is safe and a healthy option to consume during pregnancy.
Read More :- Naturally Pink Foods
9. Boon for the Nervous System
Foxtail millet is exceptionally beneficial for people who have Alzheimer's and Parkinson's disease. It will help heal and prevent you from such Neural weakness.
Grown in semi-arid regions, Foxtail millets have been consumed in India for a long time. Full of nutrients, it is known to be a Super-grain. Foxtail millet can be had in breakfast, lunch, or dinner and can be used for making a wide variety of dishes.
Interesting Fact- wondering why is this called Foxtail millet? Well, as the name suggests, the top of the millets resemble the structure and texture of a fox's tail, so it is named after that.
Can Foxtail Millet be given to babies?
Yes, these are incredibly healthy and can be given to babies after 6-8 months, they are easy on the stomach and have lots of nutrients, all good for a baby. Foxtail millets contain an amino acid (Tryptophan) needed for normal growth in infants and the body's proteins, muscles, and enzymes production.
You can cook thick dosas or soft Pongal as well using this millet.
Foxtail Millet Upma Recipe
Take a Pressure cooker and add Soaked Foxtail millet to it, wait for 2-3 whistles. Quantity can be used according to how much you want to make.

Now, take a pan, add some oil to it, let it heal, and then add some curry leaves, Mustard seeds, and urad dal, stir till they start spluttering.

Now add Onions, Capsicums, French Beans, carrots, beetroot, and more veggies if you wish to, keep stirring to fry them.

Add the cooked millet, and add some salt, red chili powder, turmeric powder, and other spices if you wish to.

Cover with a lid for 2 minutes, now add some coriander, and your delicious Foxtail millet upma is ready to serve!
Are There any Side Effects of Foxtail Millet?
Foxtail millet is great when consumed moderately, 2-3 times a week should be good.

Although some people might experience throat irritation after consuming this millet if so, you should stay away from it.

Excessive consumption can also interfere with the functioning of the thyroid gland leading to adverse effects.
Foxtail Millet Recipes
Here are five simple foxtail millet recipes:
Foxtail Millet Vegetable Pilaf: Ingredients:
1 cup foxtail millet
2 cups mixed vegetables (carrots, peas, beans, etc.)
1 small onion, finely chopped
2 cloves garlic, minced
1 tablespoon oil
2 cups vegetable broth or water
Salt and pepper to taste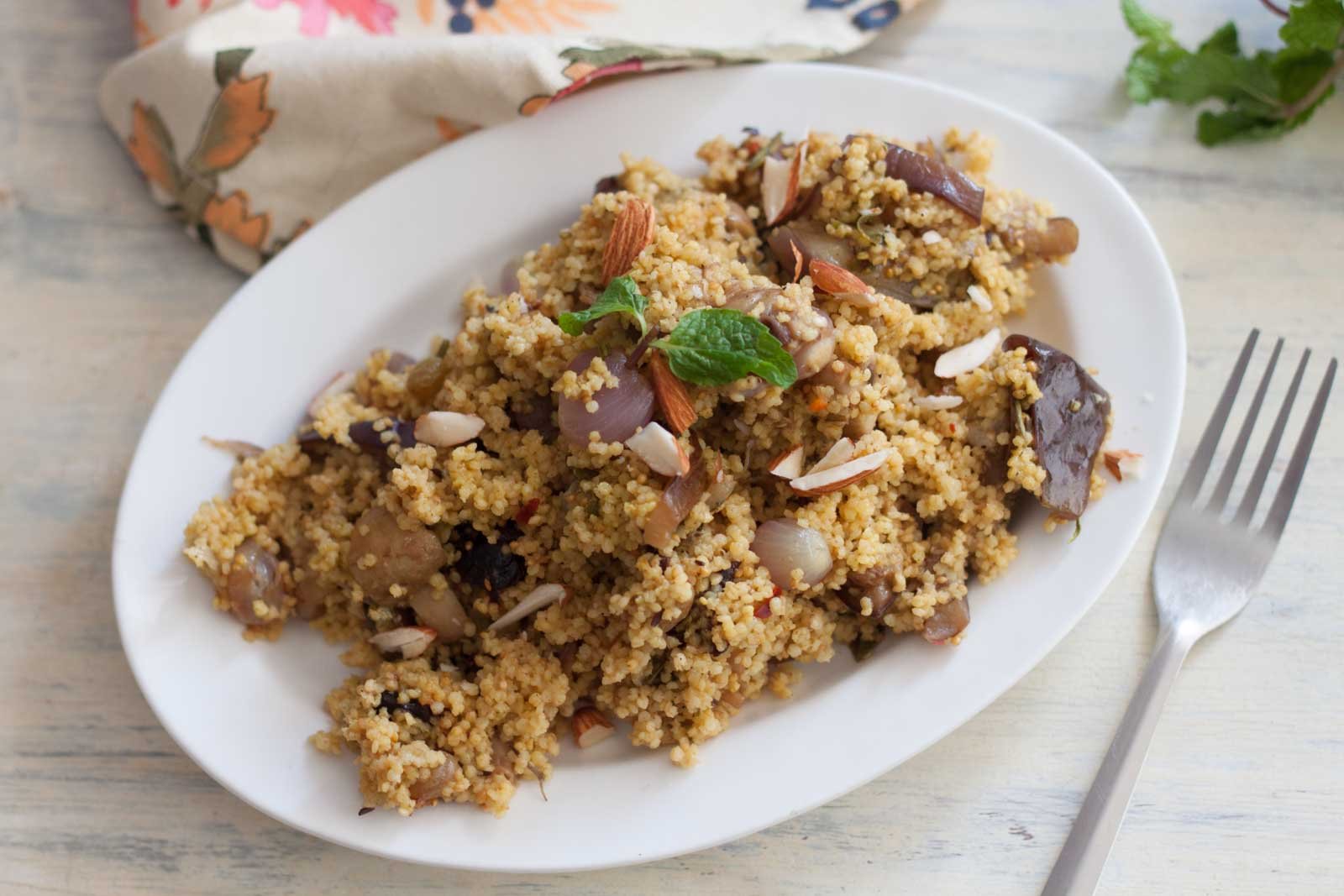 Instructions: a. Rinse the foxtail millet under cold water and set it aside. b. In a large pan, heat the oil over medium heat. Add the chopped onion and garlic, sauté until translucent. c. Add the mixed vegetables and cook for a few minutes until they are slightly tender. d. Now, add the foxtail millet to the pan and mix well with the vegetables. e. Pour in the vegetable broth or water, bring to a boil, then reduce heat to low, cover the pan, and let it simmer for 15-20 minutes until the millet is cooked and fluffy. f. Season with salt and pepper, fluff with a fork, and serve hot.
Foxtail Millet Breakfast Porridge: Ingredients:
1 cup foxtail millet
3 cups milk (or almond milk for a dairy-free option)
2 tablespoons honey or maple syrup
1/4 teaspoon cinnamon
Fresh fruits (e.g., berries, banana) for topping
Instructions: a. Rinse the foxtail millet and set aside. b. In a saucepan, combine the millet and milk over medium heat, and bring it to a gentle boil. c. Reduce the heat to low and simmer, stirring occasionally, until the millet becomes creamy and tender (about 15-20 minutes). d. Stir in the honey or maple syrup and cinnamon to add sweetness and flavor. e. Pour the porridge into bowls, top with fresh fruits, and serve warm.
Foxtail Millet Stuffed Bell Peppers: Ingredients:
4 large bell peppers (any color)
1 cup cooked foxtail millet
1 cup cooked black beans
1 cup diced tomatoes
1 cup shredded cheese (cheddar or any preferred cheese)
1 teaspoon cumin powder
Salt and pepper to taste
Olive oil for drizzling
Instructions: a. Preheat the oven to 375°F (190°C). b. Cut the tops off the bell peppers and remove the seeds and membranes. c. In a mixing bowl, combine the cooked foxtail millet, black beans, diced tomatoes, half of the shredded cheese, cumin powder, salt, and pepper. d. Stuff each bell pepper with the millet mixture and place them in a baking dish. e. Sprinkle the remaining shredded cheese over the stuffed peppers and drizzle with olive oil. f. Bake in the preheated oven for 25-30 minutes or until the peppers are tender and the cheese is melted and bubbly.
Foxtail Millet Coconut Curry: Ingredients:
1 cup foxtail millet
1 cup coconut milk
1 cup mixed vegetables (potatoes, carrots, peas, etc.)
1 small onion, finely chopped
2 cloves garlic, minced
1 tablespoon curry powder
1 tablespoon oil
Salt to taste
Fresh cilantro for garnish
Instructions: a. Rinse the foxtail millet under cold water and set aside. b. In a large pan, heat the oil over medium heat. Add the chopped onion and garlic, sauté until translucent. c. Add the mixed vegetables and cook for a few minutes until they start to soften. d. Stir in the curry powder and salt, mixing everything together. e. Add the foxtail millet and coconut milk to the pan. Stir well and bring to a simmer. f. Cover the pan and let it cook for about 15-20 minutes until the millet is cooked through and the curry thickens. g. Garnish with fresh cilantro and serve hot with rice or bread.
Foxtail Millet Energy Bites: Ingredients:
1 cup cooked foxtail millet
1/2 cup peanut butter
1/3 cup honey or agave syrup
1/4 cup chocolate chips
1/4 cup dried fruits (raisins, cranberries, etc.)
1/4 cup chopped nuts (almonds, walnuts, etc.)
1 teaspoon vanilla extract
A pinch of salt
Instructions: a. In a large mixing bowl, combine the cooked foxtail millet, peanut butter, honey or agave syrup, chocolate chips, dried fruits, chopped nuts, vanilla extract, and a pinch of salt. b. Mix everything thoroughly until well combined. c. Refrigerate the mixture for about 30 minutes to make it easier to handle. d. Take a small amount of the mixture and roll it into bite-sized balls using your hands. e. Place the energy bites on a tray or plate and refrigerate for another 30 minutes to set. f. Once the energy bites are firm, transfer them to an airtight container and keep them refrigerated for a quick and healthy snack on the go.
Enjoy these delicious and nutritious foxtail millet recipes!
Conclusion
With a whole house of various vitamins and minerals, Foxtail millet is gluten-free, making it an excellent choice for people following gluten-free diets! It also helps you lose weight as it digests slowly and makes you feel full for a long thus preventing you from reaching out to munch on those calorie-filled snacks!