This is one thing we all have in our kitchens, which can be had sweet or spicy, it can be had as breakfast, lunch, or dinner, it is not only super healthy but takes minutes to cook! You must have guessed it, we are talking about Oats. Oats are not only power-packed with multiple nutritional benefits but are also super tasty!
Indian Oats Recipes For Quick Weight Loss
Today we have got some recipes for you, all using oats and very appropriate for weight loss! These delicious recipes can be made super quick and had at any time of the day!
1. Mango Ginger Overnight Oats Recipe
Since it's the king of fruits, we will start with a Mango ginger overnight oats recipe for the Mango season.
You have it for breakfast or snack
Take a jar or bowl, and add a half jar or bowl of oats, add some water to it.
Now add some coconut milk(unsweetened) or almond milk or normal milk, add 2 spoonsful of honey, and half a tablespoon of grated ginger.
Stir this oat mix.
Now chop half a mango and add to the Oats.
Cover the bowl or jar and cover it, freeze it overnight.
Remove the lid, stir the Oats and add a few pomegranate seeds.
Your Mango oats recipe is now ready to eat, wake up and eat it, straight from the jar!
2. Oats Veggie Idli Recipe
Next is the evergreen Idli recipe, no not the normal one this is the oats veggie idli recipe, have it with green chutney, coconut chutney, or sambar.
You can have it for breakfast, lunch, or dinner
Take urad dal and oats in a mixer, (quantity as per required) or a cup of oats, 1/4th cup urad dal- grind together to make a smooth mix.
Take out the mix into a bowl, now add a cup of water, 2 spoons of curd, 1/2 teaspoon of ginger paste, and stir to make a paste.
Now add chopped French beans, carrots, capsicum, and green chili if you like your food spicy, you can also skip chilies.
Mix well to combine all the ingredients.
Cover the batter and keep it for an hour.
Now, grease your idli moulds with oil, using a brush or your hands.
Before pouring the batter, add a spoonful of fruit salt, and 1-2 tablespoons of water, and stir the mixture.
Now pour the batter into the idli moulds.
Steam the idlis for 11-13 minutes and check if the idlis are cooked with a toothpick.
Now remove the idlis with a light hand.
Serve your healthy hot oats idlis with sambar or chutney!
3. Healthy Oats Vegetables Khichdi
Next is the Khichdi now, not everyone is known to like this, but trust me, this healthy oat vegetable khichdi recipe will leave you wanting for more!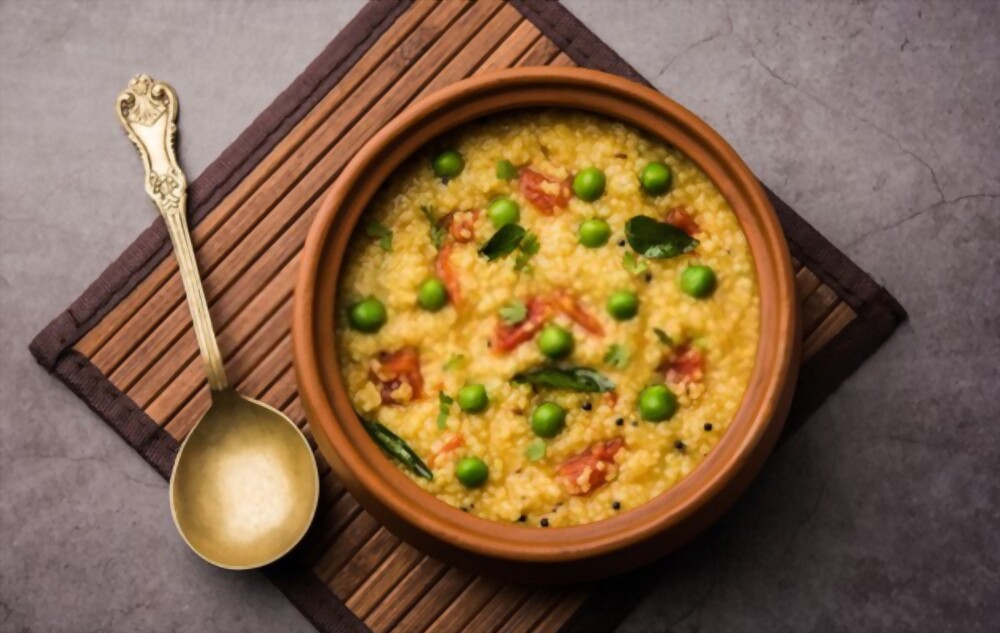 You can have it for Lunch or Dinner
(You can either cook the vegetables in a cooker or a pan and then transfer them to the cooker, I have used a pan here)
Soak some moong dal and keep it aside.
Take a pan, add 1-2 tablespoons of ghee, add some jeera, and cook till it starts spluttering.
Add some grated ginger and hing and also bay leaves, stir these for some time.
Now add some chopped onions, after they are cooked for a while, add the other veggies- beans, carrots, capsicum, cauliflower, paneer, and some chilies if you like your khichdi spicy, stir the veggies.
Now add the soaked dal with spices- red chili powder and turmeric powder, now stir for 3-4 minutes on low flame.
Now add the oats and some salt as per taste and mix well.
To this mixture, now add 2 cups of water and mix all the ingredients.
Now transfer all the ingredients to a pressure cooker, and cook for 3-4 whistles.
Open the cooker and serve hot.
Your healthy oats khichdi is now ready to be savored with green chutney, curd, or a little pickle when on a diet!
4. Oats Cheela Recipe
Last is the oats cheela recipe, you can have it instead of roti or one time instead of roti, this is great for those wanting to lose weight, and not compromising on eating tasty food.
You can have it for breakfast, lunch, or dinner
Take half a cup of oats and half a cup of water in a bowl, soak it for 15-20 minutes
Now, grind the oats to make a smooth paste.
To this paste add- 2-3 spoonfuls of curd, 2-3 spoonfuls of Rawa, some grated ginger, and chilies- if you like to eat chilies, now add water while stirring, make sure the batter doesn't turn too watery.
Now as the batter is ready, add chopped carrot, tomato, and capsicum. You can also add some coriander.
Add the spices now, black pepper powder, turmeric powder, and salt as per taste.
Now take a flat non-stick pan, apply olive oil or ghee, and spread the batter evenly to make a cheela, cover the pan with a lid.
After 2-3 minutes, flip the cheela and see if the top is brownish, if not flip it again after cooking the backside.
Now serve the hot piping cheelas on a plate with curd or green chutney.
These are all nutrient-filled recipes that not only taste delicious but are perfect for people on a diet and are very easy to prepare too! These recipes will surely leave you licking your fingers!